Aunt Molly's Ground Cherry has small, golden fruits with papery husks (like tomatillos) and a sweet-tart, slightly citrus flavor, ripen a golden-orange and store up to 3 months in their husks.
Great in hot desserts, even over ice cream.
Harvest the ripe ones straight off the ground and graze in the garden. Originally from Poland.
This unique variety is on Slow Food USA Ark of Taste. The Ark is an international catalog of foods that are threatened by industrial standardization, the regulations of large-scale distribution and environmental damage. In an effort to cultivate consumer demand—key to agricultural conservation—only the best tasting endangered foods make it onto the Ark.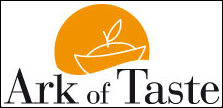 Seed Count
Approx 50 seeds per pack
Days to Maturity
70 days
Organic
Yes
Slow Food
Ark of Taste
Delicious- like a garden pineapple
This is a prolific, and wonderful addition to the garden. A most delicious -berry- whose taste resembles a pineapple. Very good and easy to grow.